Abhijit Gangoli
Co-Founder & Chief Executive Officer at DemandFarm
Driving and sustaining growth is very different from achieving a goal According to the results of multiple surveys, the biggest priority of a CEO is to achieve growth, Yet, only a small quantity of corporate leaders succeed in driving and sustaining growth because the focus is not exactly on achieving growth, but acquiring customers – at least in the B2C world. 
For B2B software solution vendors, however, the choice is different. They can focus on acquiring new customers, but it is the existing partnerships that enable them to do so. The focus on acquiring new customers might be exciting in the beginning, but statistics show that the action of onboarding new customers is five times costlier than keeping an existing one, as the odds of a successful sale are between five and 20 percent.
Nurturing existing customers requires a different kind of work, where team members ensure their customers see the solutions provider as one and they think of one as their trusted advisor to help them meet their desired outcomes. As existing customers already know the team and have experienced the working of other solutions, the probability of a successful sale rises to 60 – 70 percent. The Survey also reveals how existing customers are twice as likely to try new products from their service provider, and their spends are 31 percent more than new acquisitions.
The numbers make it clear that focusing on existing accounts and allotting resources to their emerging needs leads to success, yet organizations tend to prioritize acquiring new users above expanding the footprint of existing customers. A survey by Alpine Investors found that nearly 70% of revenue-oriented activities were prioritised on new customer acquisition, and only the remaining 30% were focused on engaging existing customers to generate more revenue. The findings were backed by the Miller Heiman CSO Insights Report, which found that 57.3% of global sales leaders surveyed prioritised capturing new accounts, even when the revenue from new customers accounted for only 29.9% of the revenue. 
The signs of the tide turning are evident too in these surveys, as the next item in the order of priority for sales leaders is to increase penetration into existing accounts. These accounts account for 70.1% of total revenue, which marks an increase over the previous years' numbers. No matter how exciting winning new accounts is, the focus on the bottom line makes organizations rely more on the growth of existing relationships. This growth comes from expanding the scope of existing accounts, while improving activities that ensure account retention. The CSO survey showed this to be an important roadblock too, with only one-third of the leaders (34.6%) admitting their confidence in the abilities of their organization to expand existing accounts. 
Making the most of key accounts: where organizations falter
The elements of account management that drive successful strategies have changed a lot over the last few decades, but nothing compared to the changes that have happened since 2020. The new normal requires organizations to majorly redesign their Account Management processes. 
Having a dynamic account management and sales process is the biggest driver of success to achieve sales goals, as they allow teams to adapt to new conditions quickly. This gives them a concrete base to work on, and cater to discerning buyers, disruptive technologies, changes in the market, buyer need changes, features launched by competition, and more. A constant revision of account plans helps vendor organizations to keep their customers happy in the long-term. 
But establishing a dynamic account management process is not feasible for all clients – and establishing a key account practice becomes essential. Like account managers, key account personnel also take care of the needs of the clients, but in a proactive way rather than the reactive nature of current account management (the  number of accounts that an account manager handles makes it almost impossible for them to be proactive, to be fair). They tackle challenges before they become serious issues, observe relevant data and tweak the key account plan accordingly to meet upcoming needs, and keep their organization ready for changes. Only 28.9% of SaaS vendor organizations report being anywhere close to that level of process maturity, and they are qualified by their revenue goal achievement and customer stickiness. They also enable their key account managers (KAMs) with relevant tools that allow them to create and maintain dynamic processes for every key account, and take the partnership forward from a solutions provider to a trusted advisor.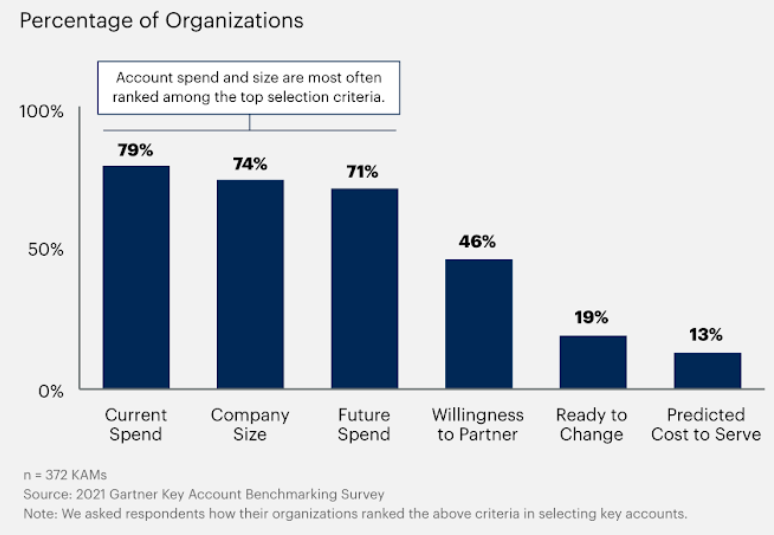 Source: Gartner
Understanding the limitations of CRM
Customer Relationship management (CRM) software are the backbone of any organization dabbling in sales in any capacity, and their importance in software B2B sales is immeasurable. Rightfully so, as they simplify sales opportunity and customer acquisition by capturing key metrics. They accurately pinpoint leads in the sales pipeline so that sales teams can take relevant steps to convert them into customers. Their strong focus is what makes them indispensable, and it is the same factor that rules them out from enhancing existing partnerships. As typical sales cycles are a few months long (at most, a couple of quarters) CRM tools are not equipped to plan long-term strategies, which is the need when it comes to existing clients. They don't provide provisions to track customer goals, history, experiences, and a whole lot of other factors. Sales teams and key account managers should be able to accurately track and monitor changing goals and expectations, to get the customer to understand that the vendor organization is genuinely interested in providing them with solutions for the issues they're facing.
Download this guide to learn how to move beyond your CRM and build a successful Key Account Management process in 9 steps!
Driving success with Key Account Management Software
Key Account Management tools are geared to build solid relationships with existing customers. They help account managers save and analyze precise information about their key accounts.
Watch Now: The Changing Role of Technology in Key Account Management
The volume of the data, structured by the key account management tools, leads to accurate forecasts, milestone tracking, threat monitoring, and tracking of opportunities related to the account.

KAM tools provide an in-depth customer view, the decision-making hierarchy, preferences, and needs. Highly personalized data for each customer is captured which allows account managers to build stronger relationships by providing the necessary support in a specialized way.

The specialised knowledge allows them to work closely with customers and design goal-specific solutions, so that customer-specific challenges are addressed. The extra value that customers see can open doors for more projects, and better collaboration opportunities.

By clearly establishing goals and then working toward them demonstrates the true worth of the partnership to customers, and continually strengthens the ties between the vendor organization and its key customers.

By highlighting areas of success and addressing areas of weakness, the partnership can grow multifold in a short span of time.
CRM tools that handle opportunity management well, don't have processes that can support management of large accounts – and don't delve deep into details that can enhance existing partnerships. There's very little standardization, and the gap between these two – where key accounts are handled on an ad-hoc basis – can be filled by tools that aid and assist in capturing and analyzing relevant data.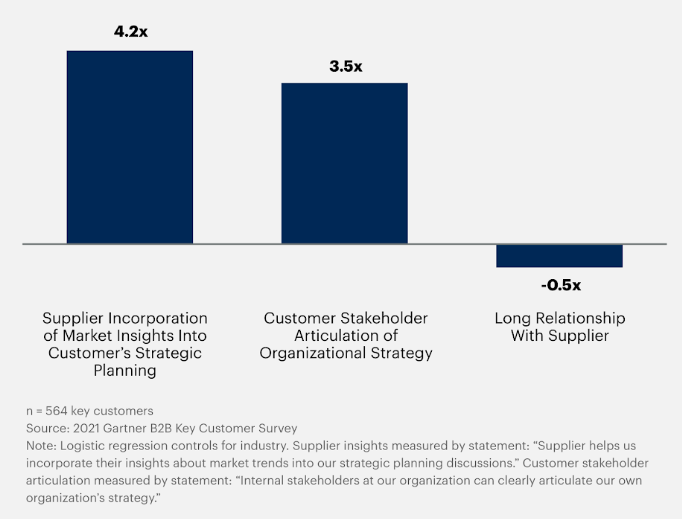 Source: Gartner, drivers for customer decisions on increased spend on a solutions provider/supplier
Key Account Management software tools ask enterprises to identify the relevancy of their offerings, what specific challenge can the solution answer for their key customers, how on-demand data can help in making the right decisions, and decide what are the right interventions. In addition to giving a clear picture on the strength of the partnership's breadth and depth, digital account planning tools also show how mature is the communication with the customer. When multiple members from a sales team interact with multiple members of a customer team, The number of interactions and the amount of information that gets passed around can become astronomical, and too difficult to manage in no time. This can lead to team members asking the customer team of information multiple times, and may make the process fraught with uncertainty. DemandFarm's OrgChart can help in converting this tribal knowledge to enterprise memory, so that teams can target the right personnel in the customer organization's hierarchy. They can understand affinity with client stakeholders, what their decision-making powers are, budgetary constraints, and create an intricate internal political map, along with other visual representations that make tasks simple for key account management team members. The Account Plan module from DemandFarm stable helps enterprises create annual plans for key accounts, and establish clear goals and objectives that  are backed by qualitative and quantitative insights. Account segmentation parameters like relationship health, account attractiveness, competitor analysis etc. that go much beyond SWOT analysis, can be used to create plans that are specific to a particular customer. The Key Account Management software from the team has now evolved to a point where Digital Account Planning is now a widely recognized and practiced category, as opposed to being non-existent a few years back. Institutionalizing the account planning process helps organizations to standardize their key account management practices, in as short a time as 3 months. Once implemented, key account management team members can access insights specific to accounts that can boost active opportunities. The tool also gives a bird's eye view of key accounts at the click of a button to the leaders of the vendor organization, and enables effective planning across regions and teams seamlessly. With efficient key account management tools, enterprises get visibility of the potential in the account, and can scale their growth ambition accordingly.
Uncover the future of KAM and its changing landscape – A Global CSO study by DemandFarm
Scaling with existing customers: the white space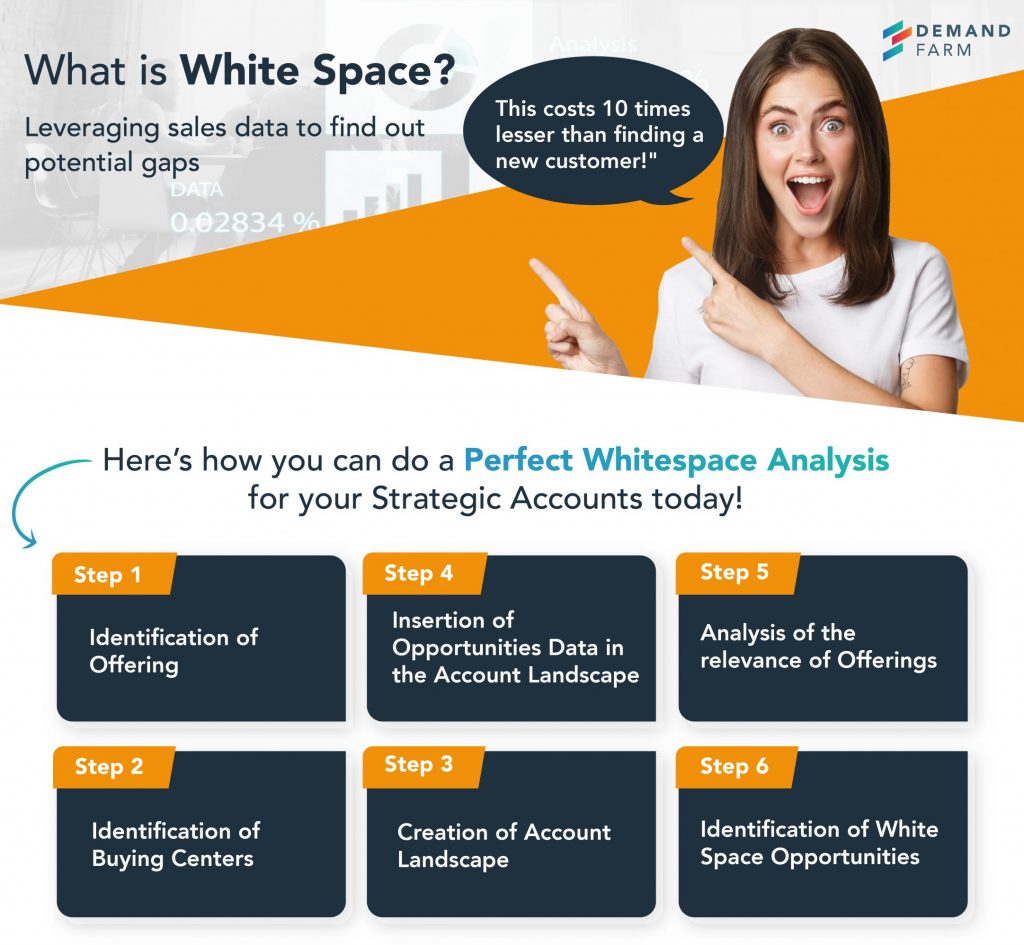 White space is defined differently in different contexts: From the lens of acquiring customers, it means areas of growth in the market that haven't been spotted yet. When existing customer partnerships are in question, white spaces are gaps in the service that customers need and the services provided by the vendor organization. The products and services that have been purchased by the customers, and other products or services in the repertoire of vendor organization. This white space analysis uncovers new opportunities in the market which their key customers might need, or highlights issues that can increase the success of upselling and cross-selling. It also highlights accounts that need nurturing, and does all of this by leveraging the existing sales data. By identifying gaps, key account managers can target potential areas of consumer spend and divert their attention towards another solution or an upgrade. White space analysis can hand competitive advantage to the organization using it to full effect, as it provides managers with powerful insights on how to grow the business. White space analysis tools can also prove to be a vital tool to strategic account management activities, as it provides the insights that lead to right strategic decisions that take both the customer and the solutions provider forward. Effective white space analysis gives a visual representation of the deal pipeline, and highlights paths that are worth pursuing in the long-term as well as the short one. These opportunities add or create value for key accounts by adding value to the product or solution: The insights can lead to innovative changes to the feature set, and this can be enhanced with co-creation with customers (which increases the trust factor and strengthens the partnership). With white space analysis, managers can recognize the gaps and create potential solutions that keep their customers ahead in the market. By providing additional value,  managers can become preferred business partners for their customers instead of just another solutions provider.
Bottom line!
Meaningful insights derived from digital account planning tools enable managers to keep track of what they know about their customer representatives, and determine where they lie in the formal hierarchy of their organization. With clear insights on who controls the budgets, enterprises can evolve their professional contacts into business partnerships. Account managers can keep tabs on internal influences, and alter their pitch or solution feature presentation accordingly. The heat maps inform decisions of account teams on how to tailor the message, who to target, how to make a better impression, and more.
Ready to discuss your Account Management Needs?
Talk to our Product Expert