Milind Katti
COO & Co-Founder, DemandFarm
Buying decisions in companies are getting increasingly complicated. Recently, Gartner has reported that "the typical buying group for a complex B2B solution involves 6 to 10 decision makers." What involved a one-person decision some years ago, now has multiple decision-makers or stakeholders.  In addition, there are different types of such decision-makers. Add to this the number of key accounts you have to manage and keep track of, and suddenly you're overwhelmed! 
Patricia Fripp, author and presentation skills authority says, "Technology doesn't run an enterprise; relationships do!" So, while you may have CRM systems in place to track all your data, the biggest drawback is just that – a CRM system only tracks data! How do you record usable information on the key decision makers, their preferred communication styles, the key account's major pain points, and all other intel you gather over time? Enter – Strategic Account Mapping! 
What is Strategic Account Mapping?
In its simplest form, a strategic account map is a visual representation of key contacts, decision makers and relationship dynamics within a key account's organization.
Looking for an easy way to identify key accounts? Use this cheat sheet! 
Why go through the trouble of this exercise? Because relationships matter.
And with business relationships, you want to maintain a relationship with the organization as much as you want to maintain a relationship with a key person or a strategic decision maker. 
In the words of American billionaire entrepreneur Mark Cuban – "Business happens over years and years. Value is measured in the total upside of a business relationship, not by how much you squeezed out in any one deal."
The fact is that people leave, but your relationship with the key account doesn't have to end there. This means it's important to have several points of contact within the organization and keep track of all the key information you need to keep your most important customers happy. Thereby increasing sales and revenue! Within a key account's organization, you may need different points of contact for different activities. There could be one point of contact that's essential for maintaining the relationship, another may be essential on account of their decision-making authority, and you could need others to confirm important details or pitch ideas to. All these are important for different reasons. 
Just identifying whom to reach out to isn't enough. To optimize time and increase efficiency, it's best to know who the decision-makers are. In this way, you can start developing those all-important business relationships. And cultivate them in a way that you can at some point go beyond the people and be strongly linked with the organization. With all this as background, you can see why this cannot be a one-time project. Strategic account mapping is, in fact, just the beginning of the business relationship. It is the starting point of the map that gets bigger, with more details and more layers. It should be a continuous building process to which details keep being added. 
How do you add details? 
When a new point of contact is established. This could be because the original point of contact is separating from the organization or has been transferred or promoted. It could also be on account of the contact being on long leave or taking a hiatus. 

When another department in your organization has collected data through surveys or interviews. 

By browsing the key account's social profiles, periodically checking their websites for new appointments, new launches etc. and scanning the news for announcements about them. 

Before or during any major projects undertaken, renewal of service contracts or similar activities where new information or details may be discussed. 
Strategic account planning is just good business practice. When it is consciously and actively made a focus, it helps you build better and stronger connections with your key accounts. Since details are constantly tracked and updated, a strategic account map can be the source of reference for every new interaction. It helps to avoid contacting the same person over and over again, making others feel side-lined. Knowing exactly whom to reach out to begin a new conversation makes your communication more targeted and relevant. You, therefore, appear current and better-informed, earning major credit for your organization! 
Importance of Strategic Account Mapping for Key Account Management
Even today, the 80:20 rule applied to business holds true. That is, 80% of your revenue comes from 20% of your clients. Combining this principle with the knowledge that client retention is less expensive than client acquisition, key account management becomes vitally important. And it all starts with strategic account mapping. 
Strategic account mapping is the first step of Key Account Management. It should begin with the first interaction with the key account and continue to be built and reviewed with every deal. Strategic account maps are relevant and important to every department that has a connection with your key account. Your sales teams are, of course, the biggest beneficiaries, but strategic account mapping can be equally invaluable to marketers and customer service representatives among others.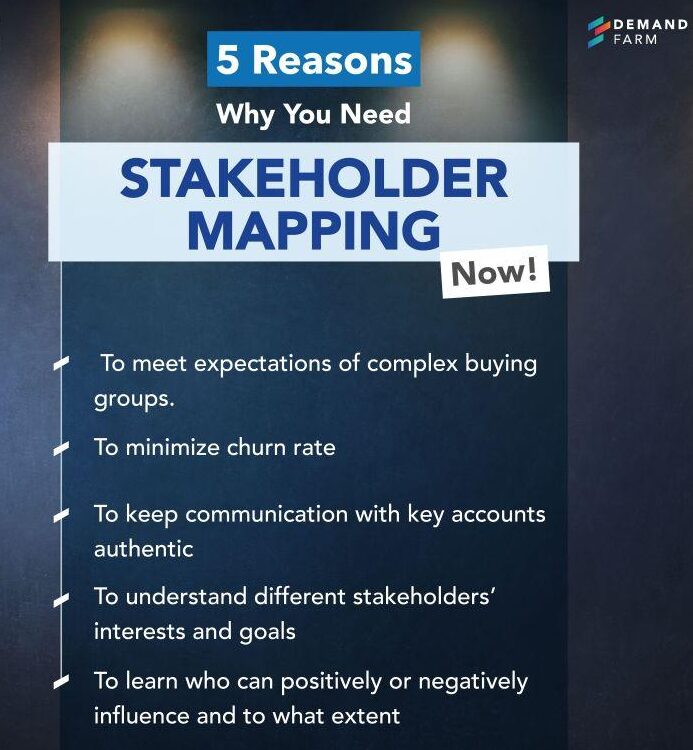 Top 5 Benefits of Strategic Account Mapping
Some of the major benefits of Strategic Account Mapping for Key Account Management are:
1. Client retention
Despite all the data on customer retention v/s customer acquisition, only 18% of companies focus on customer retention. This offers an excellent opportunity! Since the major objective of a strategic account plan is to map the important and influential players of key accounts, this information can then be used to communicate and deal with them effectively. In-depth and current information about pain points, priorities and influencers can make a big difference in your dealings with key accounts. With this information, your teams are able to offer services and solutions that are pertinent and appropriate and that match the key accounts' requirements, thus showcasing your knowledge and interest in them.
2. Long-term relationships
Your relationship with a key account may begin with one point of contact or a friendly face that has helped you get a foothold. But to manage a key relationship successfully and profitability takes more than that. The relationship has to go beyond just a one-on-one association to a bigger, cooperative and reciprocal collaboration between two entities. And this is exactly what a strategic account plan can help with. When properly implemented, it can demonstrate to your key account that you understand their business and have a stake in their growth.
3. Enhancement of revenue and profits
There are statistics to prove that the probability of selling to an existing customer is close to 70%. Selling to a new customer only has a 20% probability. Further, improving your customer retention rates by just about 5% converts into a whopping increase of up to 95% in profits. But to be able to do this, you need to track, plan and keep meticulous records. You can see how a strategic account plan can help monitor and observe all gaps and opportunities. When your key account managers can leverage these details and offer appropriate and compelling solutions, the long-term gains for both parties cannot be denied.
4. Shaping ambassadors
You are always more likely to trust a product or service when it is recommended to you by a person you trust. This also applies in the business arena. Leads through referrals are usually of high quality. They are also easier to convert because they come with a certain level of knowledge about your organization and process. In fact, marketers rate referrals as the second highest source of quality leads. With effective use of your business plan, you can create trust and customer satisfaction. You also show demonstrable interest and investment in the success of your key accounts. All these positive interactions make it more likely that they will refer your organization to other companies looking for the results you help achieve for your key accounts.
5. Attentive monitoring
The strategic account map contains all important and pertinent information about your key account. The better your note-taking and record-keeping skills, the more comprehensive your strategic account map will be. Considering this document as the foundation on which you nurture and improve your relationships through targeted communication, will help actively monitor and seek information on your key accounts. Whether it's from the news, social media, digital platforms or through calls, meetings, surveys, and video conferences, all teams from your organization will be tuned to collecting, storing and transferring critical data and relevant information to the strategic account map.
5 Steps to Effectively Build a Strategic Account Map
An account map is a hybrid between an organizational chart and a detailed client persona. It must begin with basic information about the key account and become detailed with the addition of the best people to contact, preferred methods of communication, notes on meetings etc. continuing to be added. Since it's a visual representation, use pictures, lines of connection and other details that should be highlighted, to let others in your organization take in information at a glance. 
To start building a strategic account map, follow the process outlined below:
1. Take time to understand your key account's organization
Identify all the executives, senior managers, heads of department and one or two levels below them. How many people you identify and make part of your strategic account plan would depend on the nature of your key account's organization and their decision-making process. A good business practice would be to have at least one key contact person in every important department. 
2. Get more information on the departments you regularly coordinate with
While it's easier to maintain relationships and keep going back to one key point of contact, it's astute to get information about one level higher and one level below your point of contact. Also, you will need to ensure that you know who makes decisions within the department and what kind of decisions they have the authority to make. 
3. Analyze relationships within the organization and identify connections
The best way to a key decision maker may not be your point of contact in that department. It may be the person they went to school with or a colleague they carpool with. Therefore, analyzing and identifying relationships within the organization with respect to shared interests or common pursuits allows you to find the quickest and most effective path to meeting your objective. It is also important to determine and highlight the antagonistic relationships within the organization. This shows you what paths or communication to avoid.
4. Share the strategic account map with all departments interacting with your key account
Sharing this valuable information and encouraging active contribution from all relevant departments in your organization will serve to have important and updated information on your key accounts. It also ensures that several people across your organization are constantly tracking, observing and recording important events, appointments and other noteworthy information about your key accounts.
5. Update and maintain the strategic account map
It has already been established that this tool cannot be a static tool. Schedule a periodic review of this document, not only to review updated and current information, but also to clean out irrelevant information or outdated contact details. This review can be conducted annually or half-yearly. However, if there is a major negotiation or re-negotiation of terms, renewal of contracts or change in terms of existing contracts, major promotion or marketing campaigns on the cards, it would be advisable to review and update your strategic account map well in advance.
Creating and updating a strategic account map may seem straightforward and uncomplicated. But since this document should form the basis of your business relationships, it is paramount to constantly work at it. When you consider the number of key accounts, the points of contact in every key account, the relationships to keep track of and the layers, departments and decision-making processes you realize that strategic account mapping takes quite some time and effort. Having to do this as part of your day-to-day business transactions makes it even more complicated.
Account mapping tools offer an excellent option to build, update and manage your strategic account map. Using these mapping tools, sharing and collaboration between your departments become simpler and smoother. 
DemandFarm's Key Account Management software can be linked directly to your CRM. This gives you an account mapping tool that makes your strategic account planning and mapping so much more manageable. This leads to better relationships with your key accounts, awareness of the most recent events within their companies, and any strategic changes they are planning. With all this information at your fingertips, the ideas, solutions and services you offer them will be relevant, valuable and significant – making you their partner of choice for the long term!  
Ready to discuss your Account Management Needs?
Talk to our Product Expert
Related Posts