Milind Katti
COO & Co-Founder, DemandFarm
Key Account Management Process
The title may make it all sound easy and that the Key Account Management process can be created in 9 easy steps. But as you may already know it isn't that simple. However, the sooner begun, the better done. Let's cut to the chase and start knocking out the 9 steps easy and quick.
These 9 steps go over key account planning, setting up, implementing and reviewing a key account management process.
Must Watch:  Anees Merchant, EVP, Global Growth from Course5i sharing their experience around building processes & strategies for Key Account Management.
Step 1: Building a Framework
Build a Key Account Management framework that suits your needs, targets and goals. Define your Key Account Management journey including adherence to processes and the timeline for your targets. Build roadmaps with milestones and goal-setting.
Step 2: Account Segmentation
Identify and use analytical thought to determine what your key accounts are. Analyze both potential and current contribution to determine key accounts. Use analytical thinking to understand stakeholders and understand your key customers. This helps the sales team segment the client accounts into different buckets. This will enable salespeople to come up with the right strategic action plan based on account positions.
Nearly 33% of a SaaS vendor's revenue is usually a result of a few key accounts. Nurturing these key accounts and growing with those relationships is important to produce stronger results while lowering selling costs side-by-side. Segmenting key accounts, therefore, becomes essential for future growth. To learn more about the need for key account segmentation, the types of key account segmentation and various customer segmentation strategies, check out this blog here.
Step 3: Defining Roles and Responsibilities
Identify the major personas that will be involved with the key account management process – Account Management, Sales Enablement, Sales Leadership, Sales Ops, Revenue Ops etc. Determine what their roles will be, how it will play into your Key Account Management process. In addition, establish how they will collaborate with each other.
This blueprint should clearly state the main direction, opportunities, and priorities for each Key Account. It should have a direct link to customer information and should be built as a collaborative effort between internal and external stakeholders. This should then be made available and accessible to all involved in the account. It is also important to check if you have had the customer involved and cued into this plan. Having clarity on which information is important and which is not is also essential. A large amount of information is of no use if it is not relevant information. In addition, it is important to have the information regularly updated, and in real-time ideally.
Step 5: Get into Action
The key is to get into action and have a clear plan. This should include pondering on questions like:
This should include:
What needs to be done?
By when (clear timelines need to be specified and agreed upon and followed)?
Who will be involved and who takes ownership?
How will results or success be defined, measured, reviewed and communicated?
What's your troubleshooting plan?
What are the roles and responsibilities of all parties involved?
What is the escalation POA?
Last-minute crisis in case the account is in danger?
Step 6: Track, Monitor, and Recalibrate
Account plans are dynamic and relationships keep changing. It is inevitable that you will lose some whitespaces, or miss out on some crucial data in the process. It is essential to keep track of Account Plans, continuously monitor changes and recalibrate based on these changes. In addition, a vital part of the Key Account Management process includes course-correcting plans along the way to ensure growth and progress in your accounts.
Step 7: Communicate with internal and external stakeholders
The plan stays on paper if it is not shared and buy-ins are not done in time.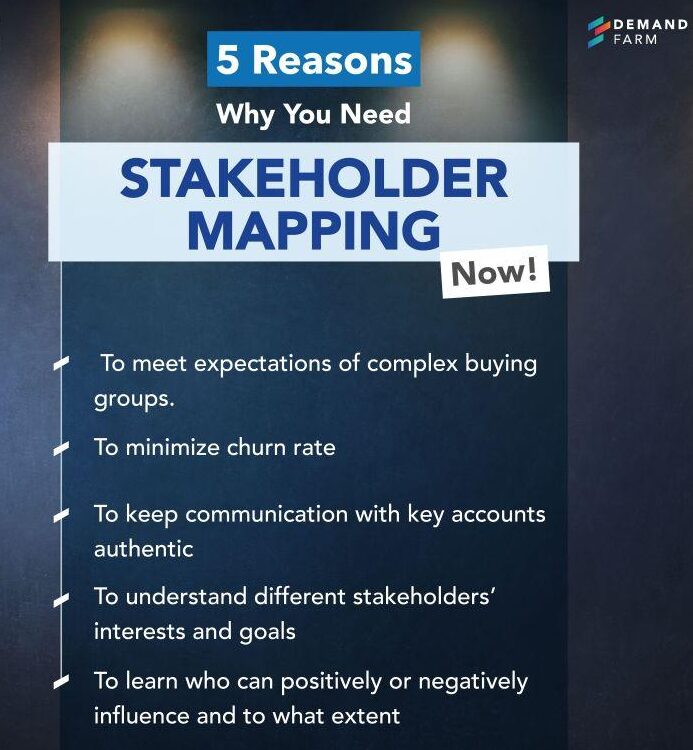 Internal Stakeholders
Internal stakeholders that are the team members need to know the customer status and value to be delivered at all interfaces. Clear roles need to be charted and communicated.
A few questions need to be answered:
– Is the customer status/value recognized at all touchpoints?
– Regarding the proposition, what you will / will not deliver?
– Are the roles of all of the account managers known?
External Stakeholders
Externally, customers need to have details of all members on his account. They need to be in agreement with the proposition, opportunities, priorities, and activity.
Once again, there are a few questions that must always be dealt with:
– Do customers on that Key Account have access to the details of the account team?
– Are they bought into the proposition, opportunities, priorities, and all planned activities?
– Have the KPIs been shared with and agreed by the customer?
Step 8: Opportunity Planning
As important as it is to manage accounts via Key Account Management framework, it is just as important to have a proven framework for Opportunity Planning.
Having a framework for monitoring opportunities, opportunity planning & management capabilities ensures that you don't rely just on your CRM for knowing your customers.
Map stakeholders and identify potential hurdles, keep track of your team's progress on large enterprise accounts.
Use relevant intelligence to strategize and plan tactics to build a buyer-focused opportunity plan.
Step 9: Monitor, Control, and Review the Key Account Management Process
This step checks the critical parameter and is the final determinant of success with regards to the following:
– Value / profitability
– Plan progress – jointly monitored efficiency
– Whether the identified opportunities have materialized
– Whether the Account management KPIs and SLAs have been achieved
– Formal measurement of relationship quality using a formal evaluation process
– Whether you would still place this account in the Key Accounts roster
These nine steps, if followed diligently and exhaustively, will help you set the Key Account Management process in place and make it a success.
Ready to discuss your Account Management Needs?
Talk to our Product Expert
Related Posts