Abhijit Gangoli
Co-Founder & Chief Executive Officer at DemandFarm
Pareto principle or the 80/20 rule can be seen in action in many organizations – but sales is where the effect becomes crystal clear; existing clients account for a large chunk of revenue, yet organizations focus their attention on acquiring new customers at the expense of existing ones. Treating valuable assets with greater care requires dedicated resources, which might not be feasible because of various reasons. Even in such cases, understanding and practicing successful large account management strategies and processes can help in extending the good work done at the time of sale closing. For small and medium businesses where sales teams wear many hats, it can add more value to existing customers through these methods.
What is large account management?
Large account management can be seen as a highly scaled up version of Key Account Management, as it also focuses on long-term relationship building in a mutually beneficial way, between a vendor and their key customers. In-depth research and assessment help large account managers find opportunities that can be used to drive value for their organization. Identifying problems faced by large clients and offering creative solutions can leverage partnerships better, and get closer to achieving their strategic goals.
A successful large account management program not only fosters customer loyalty, but also stimulates growth, increases profitability, and drives innovative solutions that can be scaled. While sales functions focus on customer acquisition and short-term selling, large account management weaves deeper relationships with core customers. The immediate impact on revenue overseen by sales, can grow exponentially over time if large account managers work their magic.
Processes involved in large account management
An effective and successful large account management program relies on formal, measurable, and repeatable processes to enable better partnerships with key customers. The factors that play a part in the success of a large account manager are quite similar to that of a key account manager:
1) Dedicated large account managers form the first line of requirement of any program that aims to provide and derive value. A program that assigns dedicated account managers who are separate from sales, so that their priorities aren't split between other functions. The difference in the objectives of sales and large account management require different skill sets and approaches, as establishing customer relationships is vastly different from nurturing and maintaining them. Being analytical and approachable helps large account managers to build rapport with customers and provide strategic inputs on the growth opportunities.
2) Developing selection criteria distinguishes key accounts from large ones, and allows managers to provide necessary value to take the partnership forward. A shortlist of selection criteria derived from the alignments between the two organizations can drive focus on the actual issues, instead of the most recent ones. Picking three to five objective criteria, weighted according to their importance to the organization, reduces confusion among the Key Account Management team.
These criteria can include product fits to customer needs, revenue and growth potential of the customer, cultural fit and geographic alignment, further partnership potentials, and so on. These factors vary from organization to organization, and different departments can designate key clients based on different criteria too. Having senior management take the lead can reduce confusion, as they can align the strategic goals and vision of the organization or product.
This also streamlines the handover process from sales teams to large account management, and a formal, scripted handoff works well. This step, done regardless of the 'key' or 'large' nature of customers, leads to a central information repository that can be tracked in the account system. 
3) Keeping up with the customers should begin as soon as large accounts are identified, or maybe even before that. Leaders should facilitate communication between the customer and the large account management team. The team members can take the dialogue forward and establish clear points of contact and what to expect. Managers can assist in developing an in-depth customer portfolio that assess details about the customer's business and markets, what goals and initiatives they're pursuing, details about stakeholder roles and responsibilities, information about key decision makers,  latest trends and reposts in the industry, what the competition is doing, etc.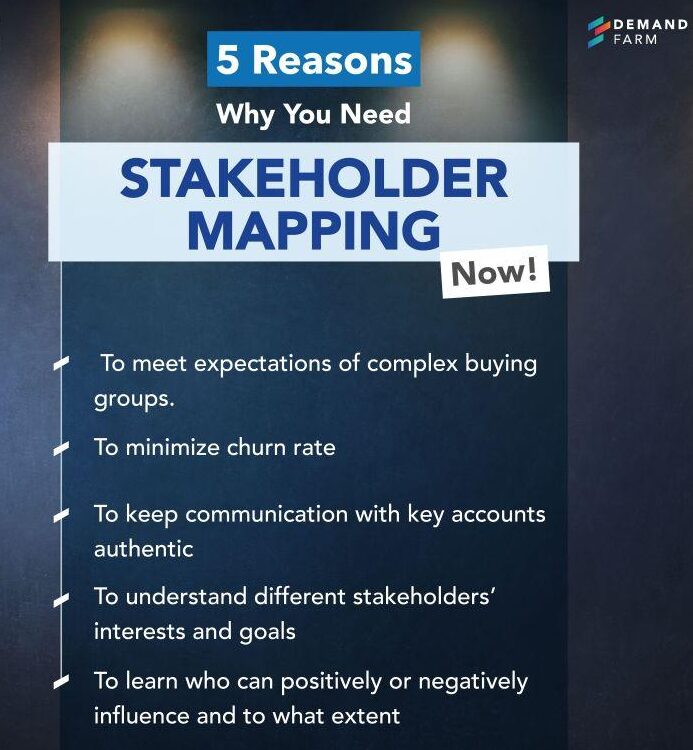 These data points lead to a better understanding of the issues that customers face, and account managers can provide value through collaboration. Considering the organization's pain points, how their needs or goals overlap with that of the vendor organization's, can help managers to identify areas of progress and any problems that might be apparent in the near future. Data can aid in assessing collaboration opportunities in the short and long term.
4) Working with the customers based on the needs assessment, can help large account managers drill down to the best strategic opportunities and create a roadmap for the next year and more. They can provide strategic recommendations like potential partnerships opportunities, creative solutions to issues, establish specific long-term goals with short-term benchmarks, call out resource requirements in advance, and other such steps that demonstrate that managers are going above and beyond to understand and address customer needs.
5) Sticking to a frequency enables the strategic plan to be executed in accordance to the needs of stakeholders, and provides opportunities for regular checks and any course correction that might be necessary. Managers can also stay updated on the market trends and customer needs, and have clarity in their communication.
6) Monitoring and adjusting processes based on performance ensures short-term and long-term goals are on track, and allows for KPIs to be changed accordingly. It also provides a way to ensure accountability, where large account managers deliver on what is promised. It also shows the ways in which vendor organization has gone above and beyond, cementing the value add in customer's mind. If the goal of mutual long-term benefit is not materializing, it can be apparent in these assessments – and becomes easier to reclassify the customer. The successes highlighted in these evaluations can also boost the confidence of the large account management team, which can improve their performance.
Risks involved in large account management
The upsides to Key Account Management notwithstanding, the downsides can be pretty brutal too. There are many companies that saw a major hit to their bottom line overnight, when their strategic partnerships failed to deliver. Keeping an eye on these common errors can improve the efficiency of the Key Account Management program.
Depending on one key customer
The effect can be seen readily in consumer goods categories – as the sales cycle there can be really short, allowing for many iterations. When retail chains or fast fashion proponents succeed, they enlist many suppliers and manufacturers to provide them with required services. These suppliers and manufacturers can earn a tidy sum every year, but not being aware of the market trends and the popularity of their customers can lead to their downfall.
Solution providers who get complacent, tend to believe that the past is a good predictor of the future and not check the health of long-term customer relationships. Managers who keep an eye on the needs of their customers as well as what their competitors are doing, can raise alerts in time and help in course correction. 
Not staying up to date with the latest
Providing cutting-edge solutions to customers is not a guarantee that they would stay either, and this is usually seen as a mistake of the customer. But what if the customer wasn't interested in the developments made, and was just using the basic features? Managers who don't ask tough questions about their product's usefulness can soon see their customers moving to competitors.
Smooth working of products or solutions is not an indication that things will remain the same over years, but a testament to the understanding of customer issues. If this knowledge is not up to date, customers will move on to other solutions. Key accounts can choose not to award any new business, and if account managers understand the customer – they can phrase solutions to show their impact on important metrics, so that customers are convinced about their investment.
Relying on past success

To begin with, the following image conveys two skills that account managers and vendor organizations need to focus on to maintain successful key accounts.
Vendor organizations with popular products can face a sort of setback: Relying on laurels. While customers derive value from the vendor, their goals and thoughts about the future might differ, and no matter how well-lauded the product is – customers won't purchase it if it doesn't fall in line with those ideas.
Vendors can assume that the brand value of their product might be enough to move the tide, and that they have nothing to worry about when it comes to customer value. What is obvious to managers from vendor organizations might not be so apparent to customers, and the criteria from which they derive value might not matter to the clients. 
Not focusing on quality of partnerships
To be a successful and well-managed solutions provider for large organizations, long-standing relationships are very important. Large customers have multiple stakeholders and decision-makers, and the people in those positions can shift jobs at any given moment. The understanding of people in those positions is bound to change too, based on various reasons. What was a winning pitch a few months ago, might not be valid now. Just providing solutions and expecting the relationship and its business to grow can be catastrophic. 
Complacency
Key account managers handling large accounts need to be wary of complacency. Since the number of cogs in the system are many, and managers with a good understanding of the customer needs can show value to different stakeholders in totally different ways. Technology teams might need more persuasion on data security, while sales can be more partial to the speed of the solution. 
Not understanding issues like these can spell the downfall of even the most suited product for the customer issue. Posing questions about the understanding of large (and/or key) customer needs, like how to identify value delivered to the customer and how to measure it, can open up unaddressed concerns.
Successful large account management strategies
As mentioned before, large account management is not an oversized version of Key Account Management; the side effects of treating it like one, are listed in the 'what can go wrong' section above. Specific actions that target large accounts, can help organizations excel in their practices. 
Focusing on building value
Building value requires more effort than putting out a product, as opposed to bundling of solutions that only pad the margins of vendors. By laying out a structure for large account selling, organizations and sales people can implement actions that benefit large accounts.
Getting management buy-in
Adopting a new large account management program (LAMP) and its selling processes requires more than what sales leads and their teams can muster.  LAMP provides a blueprint that lists solutions which individuals can implement themselves – be it account selection, research, or crafting tailored communication. With the inputs and support of management, teams can draft strategic and tactical plans that enable gaining access to large clients, and winning their business.
Assessing before stepping in
Account-driven planning and execution is a given at any software vendor organization, and it requires managers to have a clear understanding of various account management components. Action-oriented instructions that assess the situation require managers to develop a large account charter, and to look at the issues from the customer's point of view. When all details are clear, collating it all together gives a holistic view of the situation and vendor organizations can decide to designate the customer into one 
Analyzing the gap
Customers who are looking to solve a specific problem, may not be aware of other issues directly or indirectly caused. Large account managers need to identify such white spaces or gaps, where they can provide added suggestions to develop a unique strategy. They should set targets after identifying an optimal resource allocation process, and give an idea of what the result would look like. 
Read more on finding white space opportunities in this guide.
Engaging in periodic review sessions
Implementing strategies decided upon highlights the difference between real-world scenarios and products. With periodic reviews, a concrete plan can be made to move forward. Promoting honest conversations and straightforward actions is the main task of these reviews or catch-up sessions, and they help organizations to serve their clients better.
Conclusion
Large accounts, like key accounts, can be a lot easier to close, and they spend more than new customers. Implementing a formal large account management process can facilitate an environment where vendor organizations can reap the benefits of long-term partnerships. Large account management is not a simple task, nor a scaled-up version of standard Key Account Management practices.
The information about customers should provide an idea of what routes to take, but only if the data is in a structured format. When the tribal knowledge spread in the organization gets structured into enterprise data, insights can add more value to customers and help teams manage their processes seamlessly. From account maps to process flows, they can visualize relationships and stay on track with dedicated large account management tools. 
Ready to discuss your Account Management Needs?
Talk to our Product Expert
Related Posts