Abhijit Gangoli
Co-Founder & Chief Executive Officer at DemandFarm
The world of sales is evolving at a breakneck pace. The days of manual processes and guesswork are long gone. They've been replaced by a new era of data-driven insights and cutting-edge technology. A recent Salesforce study revealed that over 95% of sales operations professionals and sales leaders believe that Artificial Intelligence (AI) coupled with automation gives sales reps more time to focus on selling. 
A fairly large number of sales professionals also believe that AI will play a significant role in their industry in the foreseeable future. This number is growing every day. The rapid shift is causing businesses to rethink their approach to sales enablement, and one game-changing technology is leading the charge: artificial intelligence. 
Imagine a world where your sales team can:
instantly identify high-potential leads, 

use detailed customer profiles to tailor sales pitches, 

close deals at a significantly higher rate,

all while spending less time on administrative tasks.
No! This isn't a scene from a science fiction movie; it's the reality of sales enablement powered by AI. As organizations around the globe continue to embrace AI-driven solutions, the gap between those who adapt and those who resist will only widen. 
As we explore the AI advantage in sales enablement, let's dive into the benefits and innovations transforming the way businesses approach sales. Let's look at the practical issues faced by organizations looking to adopt AI-driven strategies and prepare for the future of sales. Get ready to redefine your sales enablement strategy for the AI-driven future.
The AI Advantage: Key Benefits for sales enablement
As we explore the remarkable impact of AI on sales enablement, it's crucial to recognize the main advantages that artificial intelligence offers. From improved efficiency and productivity to smarter decision-making and customized customer experiences, AI is set to reshape the sales landscape.
Let's dive deeper into these benefits:
1. Enhanced efficiency and productivity

Incorporating AI into sales enablement strategies not only enhances the overall performance of sales teams but also streamlines their day-to-day activities. By reducing time-consuming tasks and optimizing workflows, AI brings a whole new level of productivity to the sales process.
a. Automation of repetitive tasks: One of the most significant advantages of AI in sales enablement is its ability to automate repetitive tasks, freeing up valuable time for sales representatives to focus more on strategic initiatives. Tasks like data entry, lead qualification, appointment scheduling and follow-up emails can be taken over by AI-powered tools. Free of these routine activities, sales reps can focus on nurturing relationships, closing deals and driving revenue growth.
b. Streamlined sales processes: AI can streamline sales processes by optimizing workflows, reducing bottlenecks and increasing overall efficiency. AI-powered analytics can help sales teams identify inefficiencies in their sales funnel, uncover best practices, and make data-driven decisions to optimize their processes.  AI can also assist in managing and prioritizing tasks. This ensures that sales reps focus on the most impactful activities.
2. Improved decision-making through data analysis
The ability to make well-informed decisions is critical to the success of any sales team. By harnessing the power of AI, sales professionals can unlock valuable insights from data and make smarter, more strategic choices to drive business growth. 
a. Predictive analytics and forecasting: AI-powered predictive analytics can dramatically improve decision-making by providing accurate sales forecasts and identifying potential risks and opportunities. 
AI is characterized by advanced algorithms that analyze historical data, market trends and customer behavior. Using these algorithms, Ai can generate reliable sales predictions, enabling sales leaders to make better decisions about resource allocation, territory planning and sales strategies. 
b. Identification of high-potential leads: AI can help sales teams identify high-potential leads. This is done by accurately analyzing vast amounts of data and uncovering patterns that may not be easily apparent to human analysts. 
By leveraging AI-driven lead scoring, sales reps can prioritize leads with the highest likelihood of converting. This results in a better lead nurturing process and higher conversion rates. 
3. Personalization and customer-centric selling
In today's competitive market, understanding and catering to individual customer needs is vital to stand above the competition. With AI, sales teams can design a personalized and customer-focused approach. This results in stronger relationships and increased sales success. 
a. AI-driven customer profiling: Understanding your customers is crucial for sales enablement. AI-driven customer profiling can help demonstrate a deeper understanding of prospects. The profiling is done by analyzing data from various sources like CRM systems, social media and website interactions. 
These insights can provide a comprehensive view of each customer's preferences, pain points, and buying behaviors, enabling sales reps to craft personalized sales strategies that appeal to their target audience. 
b. Tailored sales pitches and content: Personalization greatly appeals to today's consumers. And AI can help sales teams create tailored sales pitches and content that speak directly to the unique desires and needs of each customer.
AI can analyze data on individual customer interactions, preferences and past purchases. Through this data, AI can then personalize sales messages and content recommendations that are more likely to engage prospects and convert them into customers.
Sales teams can therefore build stronger relationships, improve customer satisfaction, and ultimately drive higher sales performance.
AI-driven strategies: Innovations transforming sales enablement
Artificial intelligence is reshaping the world of sales and strategic account management. Advancements in AI can help businesses analyze, strategize and engage with key accounts more effectively. Sales teams are rapidly adopting AI-powered digital tools. This helps them improve their strategies, enhance their productivity and ultimately, drive growth.
Here are some ways in with AI can assist improvement and growth in Sales:


1. AI-assisted account planning: AI can be used to recommend ideal account plans for the year. This is done by reviewing data, sales intelligence and historical performance across a company's portfolio of key accounts. This data-driven approach is more efficient and ultimately leads to planning and implementing more effective and impactful strategies.
2. AI-assisted account reviews and governance: Digital account planning solutions powered by AI facilitate real-time governance. This proactive intervention identifies and addresses revenue-at-risk, uncovers hidden growth opportunities, and helps build stronger relationships with key accounts. Sales leaders can thus focus their time on intervention points, instead of sifting through performance reports.
3. Improved account manager productivity: AI can recognize successful patterns and support the implementation of best practices. Thus standardizing sales excellence across teams. With an over increase in the team's productivity, businesses can achieve considerable growth.
4. AI-powered sales engagement recommendations: AI can analyze data from key account management tools and other applications to suggest the next best action for account managers. These recommendations can include whitespace identification, deal prioritization, and tactics for closure, among others.
5. Sentiment analysis and social listening: AI-powered sentiment analysis and social listening tools can help sales reps gain insights into how customers perceive their brand and products. They're also able to stay informed about market trends and competitors. AI tools analyze social media posts, customer reviews and other online content to provide the most current feedback on customer sentiment. This allows sales teams to respond proactively and tailor their approach accordingly. A heightened awareness of customer needs and preferences enables sales teams to foster stronger relationships and drive better results.
6. Risk mitigation and forecasting: AI can analyze vast amounts of data to identify potential risks and provide accurate sales forecasts. By helping sales teams anticipate challenges and adjust their strategies accordingly, AI ensures that businesses can stay ahead of the competition and maintain a strong position in the market.
As more organizations adopt digital tools and AI-driven strategies for sales enablement and key account management, they will experience improved efficiency, increased productivity, and more effective decision-making. While AI won't replace the essential human element in sales and account management, it will serve as a valuable tool to support and enhance the capabilities of sales professionals in the ever-evolving business landscape. 
Preparing for the future of sales: Adopting AI in sales enablement
As AI continues to bring changes into the sales world, it's important for organizations to keep up and make the most of AI-driven sales enablement. To add AI to your sales plan, you need careful planning and smart decision-making. More importantly, your focus should be on always learning. 
Here are some important steps to start using AI in sales enablement:
1. Assessing organizational readiness for AI adoption: 
Before you begin your AI journey, it's crucial to evaluate your organization's readiness for AI adoption. This includes assessing the current state of your sales processes, technology infrastructure, and company culture. 
Consider factors like data availability and quality existing technology stack, and your team's willingness to embrace change. By identifying areas of strength and potential challenges, you can create a roadmap for successful AI implementation.
2. Choosing the right AI tools and platforms:
With the choice of AI tools and platforms available, selecting the right solution for your organization can be challenging. Start by identifying your sales enablement goals and the exact problem you want AI to help solve. 
Next, research different AI solutions. Compare their features, capabilities and pricing. Make sure you take into account factors like ease of integration, scalability and customer support. Requesting product demos and seeking feedback from peers and industry experts can also help you with your decision. 
3. Integrating AI into existing sales processes:
Successfully merging AI into your sales processes requires careful planning and execution, begin by identifying areas where AI can make the most significant impact. This could be lead qualification, forecasting or customer profiling. 
Your sales, IT and data teams must collaborate to ensure seamless integration and data sharing between your current systems and your AI tools. Establish clear goals and KPIs to measure the success of your AI implementation. Remember, you might need to make adjustments to get the results you want.
4. Teaching sales teams to use AI effectively:
To make the most of AI, sales teams need to know how to use AI-based tools and insights. Offer training programs to teach sales teams what AI can do, what its limitations are, and how to use it in real life.
Promote a culture of ongoing learning and curiosity. Create an environment where sales reps feel confident trying out AI and finding new ways to improve their work. By giving your sales teams the right skills and promoting the right attitude, you can help them fully benefit from AI. 
AI in sales enablement: Illustrative examples and insights
As more and more organizations accept and embrace AI in sales enablement, numerous scenarios showcase the transformative potential of this technology. By examining these illustrative examples, we can glean valuable insights into effective strategies, lessons learned, and best practices for integrating AI into sales organizations. 
1. Conceptual applications

Imagine a leading telecommunications company that adopts AI-driven lead scoring and prioritization, resulting in a 50% increase in lead conversion rates. By using machine learning algorithms to analyze customer behavior and purchase history, the company could identify high-value prospects and concentrate its sales efforts on the most promising leads.

Consider a global software provider that uses AI-powered chatbots to enhance its customer support and sales processes. The chatbots could successfully handle over 60% of customer inquiries. This would allow sales reps to focus on more complex tasks and high-value activities. The company might thus see a significant boost in sales productivity and customer satisfaction.

Picture a major e-commerce platform that uses AI-driven sentiment analysis and social listening to monitor customer feedback and identify emerging trends. These insights would allow the company to respond proactively to customer needs and preferences. This could lead to improved customer retention and increased sales.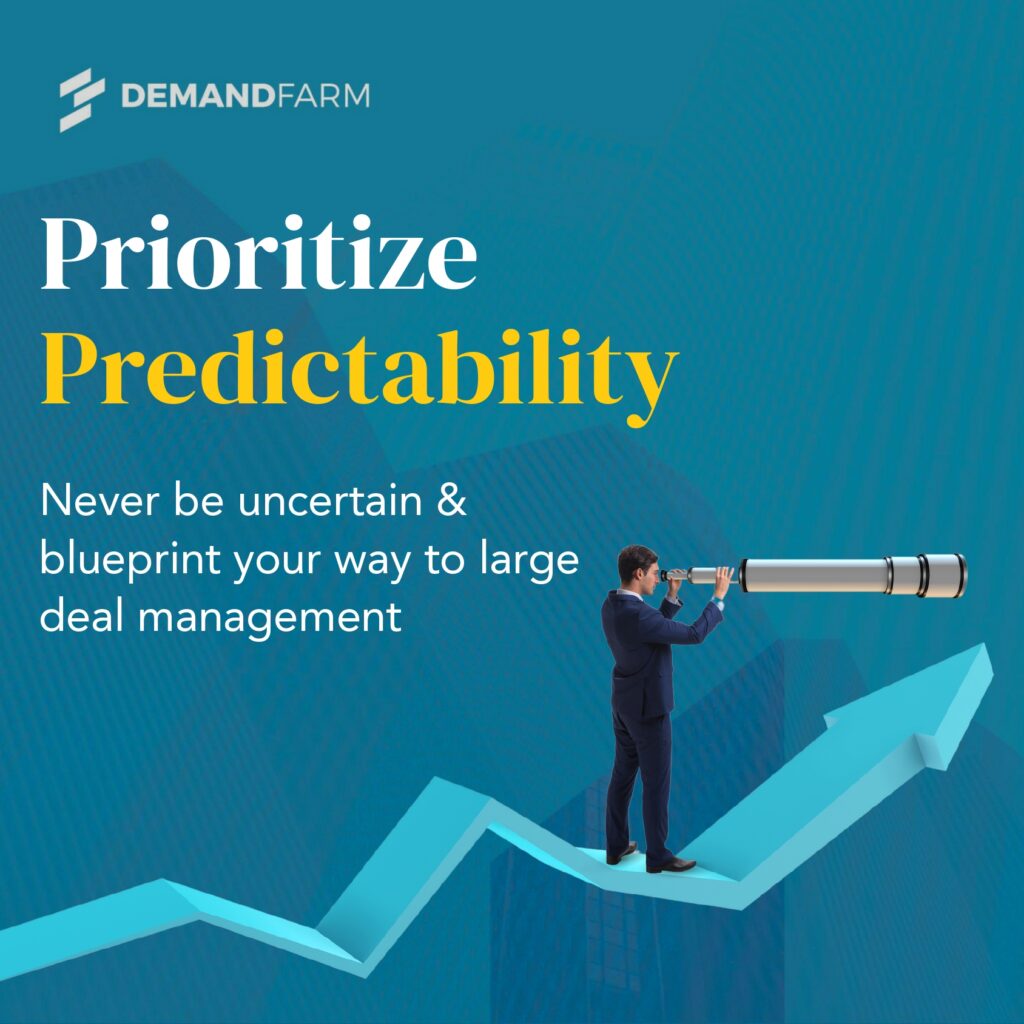 2. Lessons learned and best practices
Start small and scale up: When implementing AI in sales enablement, it's wise to start with a targeted use case or pilot project before going all-in. This approach allows you to test the effectiveness of your AI solution, get feedback and refine your strategy before committing to a broader rollout. 
Develop a culture of continuous learning: Successful AI adoption requires a commitment to ongoing learning and development. Encourage your sales team to stay curious, embrace new technologies and seek opportunities for growth and improvement. 
Collaborate across departments: To make Ai work, sales, IT and data teams need to work together. Keep communication open and share knowledge between teams for smooth integration and better AI results. 
Use data to make smart choices: AI works best with good data. Invest time and resources to manage data so toy AI-based insights and suggestions are accurate and reliable.
Track and check progress: Set clear goals and standards to see how well your AI is working. Regularly review performance and change your plans and strategies as needed to get maximum benefits from AU in sales enablement. 
Conclusion:
In conclusion, the AI-driven future of sales enablement offers exciting opportunities for businesses to grow and thrive. Embracing AI not only sets your organization apart from the competition, but it also empowers your sales teams to work smarter and more efficiently.
To make the most of this transformative technology, keep yourself and your organization informed about the latest AI developments, explore new tools and exchange ideas with industry peers. By adopting a forward-thinking mindset, you'll set your business up for long-term success in the ever-evolving sales landscape. 
Take the first small step towards AI adoption to unlock a world of possibilities for your sales team. You can create stronger customer relationships and drive meaningful business growth. The future of accuracy and efficiency in sales enablement is already here! It's time to harness the power of AI to make a real difference in your organization. 
Ready to discuss your Account Management Needs?
Talk to our Product Expert
Related Posts