Milind Katti
COO & Co-Founder, DemandFarm
Higher sales rates and revenue increase are the holy grail of IT product and services organizations, and thoughtful sales forecasting contributes a lot to it. with Salesforce Opportunity Management, they can structure their processes, enhance customer communication, and more. Opportunity management in the sales cloud offers all the necessary tools to close the biggest deals from anywhere.
With intelligent alerts, teams can provide requisite attention by gaining insight into every deal and adjust forecast levels to reflect the new normal. With a sales path, teams can stay informed of where they are in the sales cycle, get tips on how to push deals forward, and easily view all open items in recent activities at every stage. Quick view simplifies the management of what is being done and what's next – so that sales team members can stay on top of recent developments with a quick view, which makes it easier to collaborate with the larger team so everyone has what they need to close the deal. Tasks can be managed along with rich notes from existing workspace too.
What is Opportunity Management in Salesforce?
Details of a sales deal between the product/service provider and customer are captured in Salesforce Opportunity Management. The data helps sales teams manage all the deals with Salesforce, while being connected to stakeholders. Team members can access and share the information needed to close the sale, from anywhere. Existing information about completed sales is also present in Opportunity Management, which can provide insights into improving the processes so that future potential sales can be conducted more efficiently.
Start with: Setting up opportunities
Opportunities can be created for existing accounts or through a lead conversion process. Not only this helps users to track changes in deal size, but also allows for the closing of dates with the help of Opportunity deal change highlights. Hovering over a highlighted opportunity gives more details about the updates, and updates can be visualized for opportunity amounts through the Opportunities List view and Kanban-view. Some of the key fields that help in tracking updates are made to an opportunity are:
1. Stage:
This required field allows for opportunity tracking. A standard drop-down list of set values provided by Salesforce makes the selection easy, and they can be modified to suit the needs of the business.
2. Close date:
Close date is a required field, and is crucial for forecasting. It is updated to the date when the opportunity is closed automatically. 
3. Amount:
This field displays the total cost of the opportunity under consideration. The sum total of opportunity products are shown, after they're added to an opportunity.
4. Probability:
The likelihood of the opportunity being converted, is reflected here. There is a default probability to close for each stage, going from a scale of 100% for a closed deal and 0% for a lost one.
5. Expected revenue:
This read-only field is automatically generated by multiplying the probability with the amount. It can be a useful metric to use, while reporting the efficiency of the sales pipeline.
Moving to configurations
Effective tracking and closure of opportunities can happen once the configurations are set according to the needs. Here are some configurations that can be set up:
Update reminders can be leveraged by managers to send open opportunity reports to team members according to the hierarchy of defined roles. This ensures accurate and updated opportunities driven by precise forecasts.
Big deal alerts are automatically sent as emails to customers, whenever an opportunity reaches a threshold amount and probability. Users can configure the 'from'
Similar opportunities help in finding closed-won opportunities that match current opportunities for quick and simplified information access. Fields are configured in similar opportunities related lists so that users can see them easily.
Utilizing opportunity-related objects
Opportunity-related objects help in providing details about key stakeholders that are involved in a deal. They can be entered and tracked using opportunity's related list items like track competitors, partners, and others who have a say in the deal closure. These related lists can be leveraged according to the business requirements:
Opportunity teams help in leveraging members of different departments while working on deals. Team members can be designated as 'internal' or 'partner', with designated roles and access levels.
Opportunity splits facilitate revenue sharing from opportunities and provide adequate credit to team members for their part in closing deals. Individual sales credits can be rolled into sales team member quota, and reports can be pipelined for an entire team.
Partners simplify association of existing accounts to opportunities. Primary partners appear on the opportunity report, speeding up the mode of action that should be tailored to the specific requirement.
Competitors' fields can be leveraged to track market progress in the opportunity sphere. The list can be chosen from existing competitor names, or new ones can be added.
Contact roles describe the role of every lead or touch point in converting the opportunity. By defining contact roles, sales team members can ensure everyone knows who to contact on the customer side. 
Field History Tracking comes into picture when users modify tracked opportunity fields, be it standard or custom. The change adds a new entry to the related list in Opportunity Field History. Details of changes to all entries are included, along with the details of the one making the change.
Stage History adds a new entry when a user changes the stage, probability, close date fields, or the amount of an opportunity.
The two lists together aid in the tracking of opportunity – as one chronicles field history, and the other keeps note of the changes to opportunity stages. 
Creating and managing opportunities
The process of creating and managing opportunities on Salesforce is a feature-rich one, and these steps show how that can be achieved. Here's a sequence that shows how opportunities with designated key accounts can be managed:
Log into your Salesforce account and navigate to the "Opportunities" tab on the top navigation bar.

Click on the "New" button to create a new opportunity.

Fill in the necessary information for the opportunity, including the account name, opportunity name, and estimated close date.

Under the "Additional Information" section, select the "Key Account" checkbox to indicate that this opportunity is associated with a key account.

Click on the "Save" button to create the opportunity.

To view all opportunities associated with a key account, go to the "Opportunities" tab and select the "Key Accounts" view from the drop-down menu.

To create a custom view for key account opportunities, click on the "Create New View" button and select "Opportunities" as the object.

In the "Filter Criteria" section, select "Key Account" as the field and "True" as the value.

Give your view a name and click on the "Save" button.

To manage the pipeline of key account opportunities, go to the "Opportunities" tab and select the "Pipeline" view from the drop-down menu.

Use the filters on the left-hand side to narrow down the pipeline view to only show opportunities associated with key accounts.

To track the progress of key account opportunities, use the "Stages" column to move the opportunities through the different stages of the sales process.

To add notes and tasks related to key account opportunities, click on the opportunity record and navigate to the "Notes & Attachments" and "Tasks" sections.

To collaborate with other team members on key account opportunities, use the "Collaboration" section to add team members to the opportunity and share updates and comments.

To generate reports on key account opportunities, go to the "Reports" tab and select "Opportunities" as the object.

Use the filters to narrow down the report to only show opportunities associated with key accounts.

Use the "Create" button to generate a report and export it as a PDF or Excel file.
By following these steps, you can effectively use the opportunity management feature in Salesforce CRM for key account management. You can view, track, and report on all key account opportunities, collaborate with team members, and add notes and tasks to stay organized.
Considerations while managing opportunities
Opportunities can be managed by distributing the load with other users. They can also be cloned to create new opportunities that have similar data fields, and opportunities can be updated to move them through the sales stages. Here are some important considerations to create and manage opportunities in Salesforce:
While relating an opportunity to an Account or Contact, don't forget to provide the necessary read access on Account /Contact.

New opportunity division is set by default to the division of the related account.

Salesforce mobile app does not provide a multiline editing feature, so the editing is limited to only one opportunity at a time.

If the records that are being cloned contain read-only fields or access-restricted fields, the new record field will be left blank.

users get view-only access to the opportunity's account by default, based on Salesforce's implicit sharing rules. This can be edited while sharing the opportunity with a user.

All notes, quotes, attachments, quote line items, PDF files, contact roles, events and tasks, partner relationships, competitor strengths and weaknesses, and stage history get deleted along with the opportunity that is deleted.
Reaping the benefits by managing opportunities
Opportunity management allows companies to track and manage potential sales opportunities, giving them the ability to convert more leads into customers. Companies can use opportunity management to track the progress of potential sales and create more accurate forecasts for future revenue. Sales teams can collaborate more effectively by sharing and discussing opportunities in a central location, using Salesforce's built-in communication tools.
The opportunity management feature provides a detailed view of customer interactions, which can be used to gain a better understanding of customer needs and tailor products and services to meet those needs. Salesforce CRM's opportunity management feature can automate and streamline the sales process, making it easier for companies to manage and close deals. Companies can use the opportunity management feature to gain visibility into their sales pipeline and identify areas where they can improve their sales efforts. Companies can automate and streamline their sales process, reducing the time and effort required to close deals.
Is there a way to make Opportunity Management better?
In the case of larger business deals, it becomes more complex and leads to longer sales cycles.
Some of the challenges faced often are:
Inability to get real-time access to track the progress of sales & marketing goals

Lack of a user-friendly solution that integrates seamlessly into Salesforce

Finding a sustainable & long-term solution that met their expectations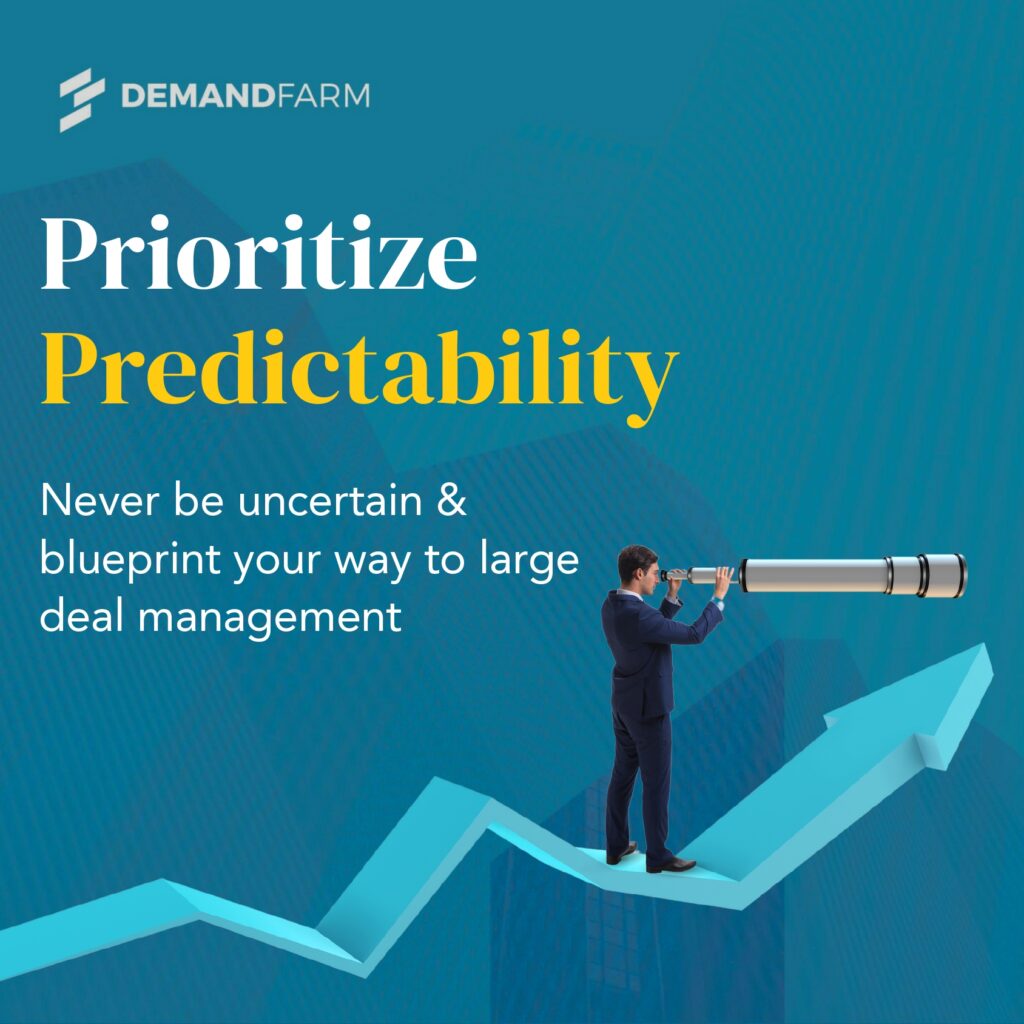 In this case, there is a need to improve sales methodologies for faster execution. It is essential to take control of high-value opportunities to align with customer needs. Solutions for Opportunity Management should then enable the following:
360-degree view: A complete view and intelligent insight into all your opportunities
Faster deal closures: Improved strategy to score opportunities and take your wins to the next level
Prioritizing predictability: Having the right blueprint for large deal management can reduce uncertainties
Stakeholder Savvy: Identify key stakeholder and their roles better to conquer their support
DemandFarm's Opportunity Planner Playbook helped DairyMax enhance their tracking capabilities & efficiencies across 65+ Opportunities.
Check out DemandFarm's Opportunity Planner, a 100% Salesforce native & collaborative tool to help you with planning & closing large, complex enterprise deals.
Ready to discuss your Account Management Needs?
Talk to our Product Expert
Related Posts