Milind Katti
COO & Co-Founder, DemandFarm
Relationship Mapping is a visual representation of a client's organizational chart that gives an idea of the kind of connections and influences each entity has over another. Relationship mapping ensures that there is clear understanding into the complex relationships within an organization when it comes to B2B sales negotiations. This enables account managers and sales leaders to identify the purchasing process, stakeholders and the influence of these stakeholders within the organizational hierarchy of your customers. 
The Need for Relationship Mapping 
If we are unaware of the key stakeholders, decision-makers, or influencers within the target client's organization, there is a possibility of losing the lead and the entire deal in the highly competitive B2B world. In order to ensure that the bargaining power of your sales and account management teams don't fall short of expectations, there is a need to be equipped with the ability to sell your products and also to push out other products to your clients.
Importance of  Customer Relationship Mapping
To Sell More to your existing Clients
Relationship Mapping primary serves the purpose of achieving 3 main goals
Generate more revenue from the existing set of clients

Win new clients

Protect your existing clientele
When equipped with the necessary tools, Key Account Managers can arrive at the best possible outcomes during negotiations and generate increased revenue. Relationship Mapping helps identify newer and fresher white space opportunities for revenue generation and simultaneously strengthens older streams of revenue. 
6-Step Process to Create a Relationship Map
1) Clarify Interests 
Before you begin the task of creating your relationship map, it is important to firmly state what your interests are. Every client-side team will have various positions and demands made by certain individuals or parties. These positions could stem from their needs, concerns, hopes, desires, and fears in the short term(2-3 months) , mid-term (1-3 years) and long-term (3+ years). 
2) Identify all the Relevant Stakeholders
Ensure that no stakeholder is left out. Knowing the organizational hierarchy and internal pecking order throughout the changes in a client's life cycle is useful to be in a better position and defining goals during negotiations. This is why updating the relationship map is important. 
3)Identify the Interests of the Stakeholders within the Account
Identify and analyze relevant players and the interests of the client. List out their needs, concerns and fears to better understand the stakeholders involved with the account. 
4)Identify the Relationship between the Stakeholders in an Account
This requires knowing who the relevant players are, and what each player wants from the agreement. You need to identify and analyze all existing relationships between the parties and the type of relationships. 
5)Identify Coalitions
Identifying coalitions within the client organization can help you in your agreement. This helps determine whom to include and exclude in your negotiations. 
6)Attack the Stakeholder Relationship Map with Strategy and Tact
After the map has been created, it is up to you to make a clear plan of action for you and your team. Checkout these 3 strategies to employ your relationship map in action for your key accounts.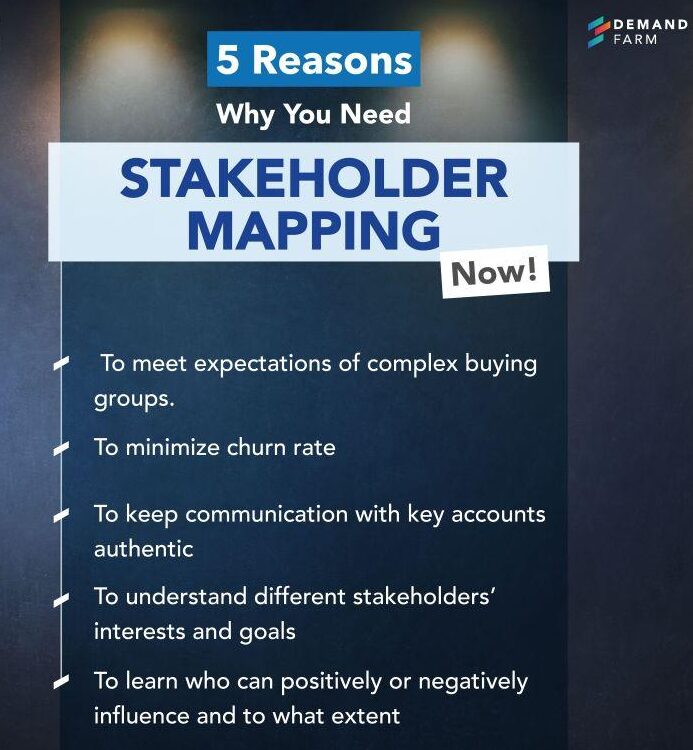 Strategies for Growing Key Accounts Using Relationship Mapping 
1) Bootstrapping
Move from 'easier' parties to 'harder' parties. Exploit your personal and professional relations to finally arrive at your desired outcome. Easier parties are natural allies and harder parties need more influence from within the organization to come to an agreement. 
2) Backward Mapping
Identify to whom the decision-maker defers. Then, identify the person to whom that player defers. Keep doing this till you identify a player with whom you can influence easily. Individual relationship patterns and joint value created from your coalition influence the final decision-making process.
3) Pyramiding
This strategy is the opposite of bootstrapping. Begin with the players who are hardest to influence. Often these parties are the ones who exert the most influence within an organization. This strategy allows you to ally yourself with parties that have so much influential power over others that once you have them on your side, you are almost assured that you will have no opposition.
3 points to consider while creating a Stakeholder Relationship Map
Key account managers need to be proactive communicators and share critical information to ensure the success of ongoing actions. The following are three important points to keep in mind while designing a solution to a relationship map that adds value to your products and services.
1) Accessibility for All
Every member of your team can have critical information on your client's performance, preference, need gaps, relation dynamics, and so many more intangibles. 
2) Real-Time Data Is Critical
Make it a priority with your team to update the relationship map every time there is a tangible or intangible change within the client organization to stay up to date.
3) Regular Review of the Relationship Map
It is necessary to conduct a monthly or quarterly review of it to ensure the credibility of data.
What makes a good Relationship Mapping Tool?
Creating a relationship map is only the first step of your journey. It is necessary to structure your thoughts and goals for a relationship map. A good stakeholder relationship map will help you answer the following questions:-
What am I trying to achieve from this client partnership?

Who among the clients and my organization would be affected by it?

How can each one of the stakeholders from the client's organization help or hurt my objectives?

What can I do to leverage the entities that are helpful for my cause?

What is the path I should take for any possible damage control in the future?
Relationship Mapping for effective Key Account Management 
Key Account Management implies going above and beyond for building long-term relationships with a focus on the customers who make up the majority of the business's revenue. A powerful solution that can assist Key Account Managers is the relationship mapping tool. A good relationship map is a tool that makes the best use of the assets you have, i.e. the relationships you have built. 
One such popular tool in the industry today is the Org Chart tool. It is completely intuitive, easy to use, and has a very short learning curve.
Ready to discuss your Account Management Needs?
Talk to our Product Expert
Related Posts